FIREARMS AND EQUIPMENT FOR MARSEC AND PMC'S
Contact International Ltd. has worldwide connections to the best manufacturers in the world of weapons and equipment for military, security, law enforcement and civilian use.  We can provide firearms and equipment, mostly military grade, to fit every purpose and mission.  Among our customers are maritime security companies, private military companies and military contractors from around the world who are hired to secure vessels, territories or high ranking officials, putting themselves at great risk of harm in order to fulfill the mission they were contracted for.  As with all of our activities we adhere to local Israel Ministry of Defense regulations and international regulations regarding the sale of firearms and military equipment.
For the passed decade and maybe even more there has been a sharp increase in piracy worldwide but especially in the Gulf of Aden, Somali Basin and the Indian Ocean.  Ships and vessels have been attacked by professional pirates who's missions vary from just stealing cargo to stealing whole ships and kidnapping the crew for ransom.  These piracy actions have cost companies millions of dollars in damages effecting their business activities and reputation to deliver their goods on time in the international market.  In those areas the pirates thrive and it is the job of marsec (maritime security) companies to stop this from taking place.  Marsec companies are equipped usually with surplus firearms such as Galil or AK47 assault rifles, shotguns and handguns.  Sometimes marsec units are also armed with long range sniper rifles and anti-tank shoulder fired missiles that can take our pirate ships before becoming a short range threat.  Marsec units are manned by former military soldiers from all over the world who are experience in firing weapons, working as a team, and doing whatever it takes to make the vessel safe at almost any cost.  The regulations that Maritime security companies need to abide by state that since the firearms and ammunition that the team carries is not registered by any country, before the ship docks, all firearms and ammunition needs to be dumped overboard and video must be taken of this clearly displaying the serial numbers of every weapon thrown overboard.  For this reason many marsec companies prefer not to purchase newly manufactured weapons rather military surplus firearms that are cheaper by at least a third of a new firearms depending on condition.
Besides weapons we can provide protective gear such as bullet proof vests, helmets, scopes, night vision, weapon accessories, uniforms and specialty clothing for special conditions, personnel first aid kits and more.  These products are usually newly  
Maritime security companies are a niche in the field of private security companies and private military companies who operate worldwide.  In recent decades these companies have made billions of dollars in contracts as some countries preferred to outsource security and military operations rather than mobilize their own national military forces for many diplomatic, political and financial reasons.  In Iraq, Afghanistan, many African and South American countries, PSC (Private security companies) and PMC (private military companies) are taking the role and the risk of fulfilling missions once done by national militaries and police forces.  The PMC's and PSC's are made up of ex-military personnel, highly trained and well paid, usually equipped with the best weapons and equipment money can buy including armored vehicles, helicopters, UAV's and more.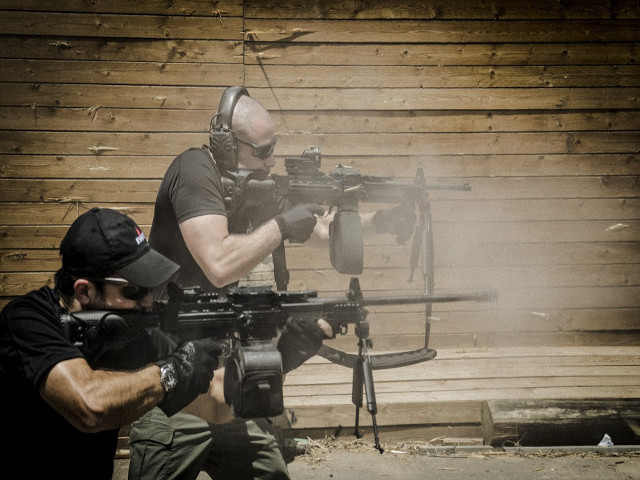 Contact International Ltd. is able to supply your maritime security company, private military or security company, with the best new and surplus military firearms and equipment to fulfill your mission and contract.  We are not some illegal gun running operation.  Everything we do is regulated and done according to local and international ITAR regulations and more.  Whether looking for Uzi, Galil, Tavor, AR15's or even RPG's we can provide you with the best weapons to suit your mission as well as ammunition and equipment from the most respected manufacturers producing battle proven gear.  
Before contacting us please read the following 
Our company is located in Israel. We cannot and will not export to countries that have no diplomatic relations with Israel, either directly or indirectly.
We are wholesalers dealing in bulk only. We do not sell small quantities.
We sell to firearm importers and distributors (US FFL 08 or others that apply), military and police units, government and other organizational entities worldwide. We DO NOT sell to individuals or businesses that don't have the proper licensing to import firearms and related equipment.
Make sure that before contacting us that the firearms or other products you are interested in are importable to your country.
CONTACT INTERNATIONAL LTD. - MILITARY SURPLUS FIREARMS AND EQUIPMENT
For over 35 years Contact International (Kalia) Ltd. has been one of the leading companies in Israel in the field of the purchase and sale of military surplus firearms and equipment from mainly IDF (Israel Defense Forces) inventories and suppliers from around the world. We are a one-stop-shop for all of your armoring needs, from ammunition and personal equipment and tactical gear to military armored vehicles and aircraft. We specialize in Israeli firearms such as Uzi, Tavor, Galil and Jericho as well as supply other firearms from around the world, new and used. Our many years in the business have gained us a wide spread worldwide network of contact allowing us to provide you with any product or item that you are looking for. Unlike other companies, most of our products are from our inventory and ready to go thus cutting down delivery time. Our military surplus firearms range from pistols and handguns to assault rifles, machine guns and anti-tank shoulder rockets. Most of our worldwide clients are: govenrments and military units, homeland security and law enforcement agencies, army-navy stores and gun shops, gun collectors, movie special effects and fight scene coordinators. We also offer many weapon accessories such as day and night scopes, butt stocks, bipods, grips, holsters and slings, magazines and clips and more. The personal equipment and gear ranges from helmets, uniforms, tactical vests, gas masks, blankets, tents, camouflage nets and all a soldier or police officer needs to be safe and equipped.
Surplus and More – Contact International Ltd