The Israeli Military Gas Mask
A bit of information about the Israeli gas masks that we offer.  The gas masks are manufactured according to the NATO standard, which is considered the most advanced technologically, and they come in two models: the Israeli military gas mask (M15) and the Israeli civilian gas mask.  All M15 military gas masks come with the drinking tube, and only some of the civilian ones come with it depending on the year of make.  All gas masks are new and unused, in their original box with the filter canister, designed to protect civilians and soldiers from chemical and biological weapon attacks.
A brief history
Gas mask kits were first distributed to the Israeli public in 1990 during the first Gulf War after Saddam Hussein threatened to fire missiles with biological and chemical warheads at Israel.  Residents were required to carry their gas masks with them everywhere they go throughout the war, and although a few missiles were fired by Iraq and landed in Israel, none of them where armed with chemical or biological warheads.  Since then the Israel Home Front Command has conducted several maintenance collections of the old gas masks and distribution of new ones due to demographic changes, the wear and tear of the kits and the expiration of the effectiveness of the rubber and filters.  These maintenance collections occurred in 2003, 2007-2008, where the kits were refurbished and renewed in preparation for future distribution in times of emergency and crisis.  In 2010 the Israeli government decided to distribute new gas mask kits.  In January of 2014 the Israeli cabinet decide to stop the distribution of gas masks to Israeli citizens following the destruction of Syria's chemical weapons arsenal by UN inspectors and allied forces.  Gas mask kits will continue to be produced but not for civilian use rather for emergency and rescue services.
The Israeli Military Gas Mask M15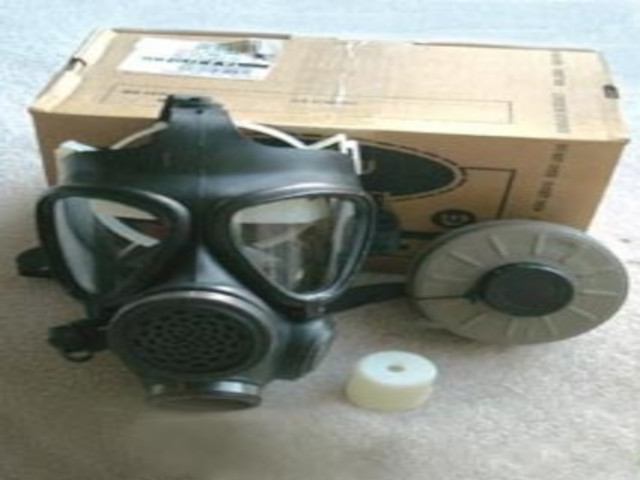 Israeli Military Gas Mask – M15
The military gas mask model M15 is the standard official Israel Defense Forces gas mask aimed at protecting military and law enforcement forces from known NBC (nuclear, biological chemical) agents providing complete face respiratory protection.  The design is made to give optimal comfort and fit while allowing for minimal interference in movement, communication and firing of weapons.
Features (copied from the original manufacturer's info list)
The Israeli gas mask is lightweight, with a comfortable secure fit and low breathing resistance.
Specially formulated rubber material for high resistance to NBC agents, superior comfort and durability with a proven shelf-life of 20 years.
Three overlapping face-piece sizes assuring reliable fit for most adults.
Uniquely designed peripheral sealing lip assuring excellent fit.
Impact resistant cylindrical plastic lenses with wide field of vision.
Prescription lens frame mount assembly.
NATO standard 40 mm threaded filter canister housing.
Five-strap highly elastic head harness equipped with quick release simply adjusted buckles for quick and easy fitting.
Central voice emitter providing clear effective communication.
Side voice emitter for telephone communication.
Dynamic microphone system for communication in tanks and armored vehicles(available only in M15-S80 model).
Drinking system with safety connections for safe drinking in contaminated environments providing extra comfort and extended wear in hot climates and during vigorous activities. Compatible with military canteen threads.
Israeli Military Gas Mask Models
M15-A1T model – standard official Israeli military NBC gas mask featuring a side voice emitter for telephone communication. 
M15-A1 model – same as the M15-A1T model, but without the side voice emitter. 
M15-A30 model – basic version of the M15-A1 model, without a drinking system. This model has wide applications with the law enforcement and homeland security forces.
M15-S80 model – the standard IDF gas mask for tank crews featuring a built-in dynamic microphone and flexible rubber breathing tube. This model also incorporates all the other features of the M15-A1 model.
The Israeli Civilian Gas Mask   
Israeli civilian gas mask
The main distinction between the military and civilian models is that the civilian gas masks have circular eyes and the military gas masks have triangular eyes.  The masks are for made to fit children from the age of 8 and adults.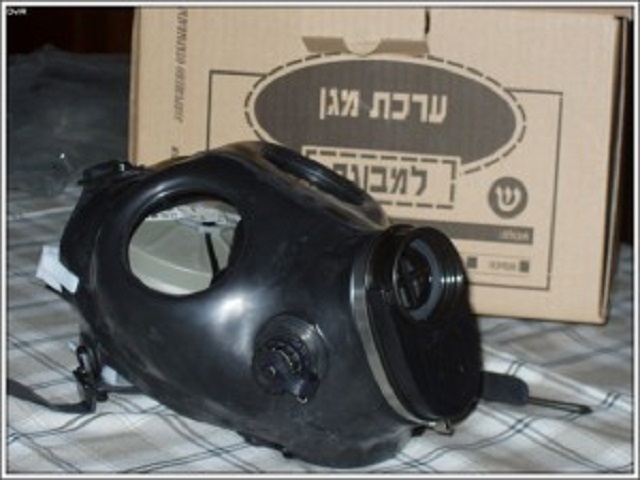 Features (copied from the original manufacturer's info list)
Lightweight and specially designed for extended use with superior comfort, secure fit, low breathing resistance, and a 20 year shelf-life.
The adult model 4A1 gas mask incorporates a uniquely designed peripheral sealing lip allowing a high level of protection for most adults.
Specially formulated impermeable rubber material for high resistance to NBC agents.
Impact resistant plastic lenses with excellent visibility.
• Comfortable nose cup with controlled air flow to eliminate lens fogging and CO2 buildup.
• Five-strap, highly elastic head harness equipped with quick release, simply adjusted release buckles for quick and easy fitting.
• Voice emitter provides clear and effective communication.
• Drinking system with safety connections, for easy safe drinking in contaminated environments.
Israeli Civilian Gas Mask Models

1. Model 4A1 – Adult gas mask – one size fits all.
2. Model 10A1 – designed for the protection of children from age 8 years and older.
3. Models 4 & 10 – identical to the models 4A1 and 10A1, but without voice emitter and drinking system.
4. Panoramic model – single curved impact resistant plastic lens with improved peripheral vision.  Once size fits all. Designed primarily for industrial and laboratory workers.
The NBC filter gas mask canister type M-80 
Israeli gas masks with filter
The Type 80 filter canister was developed for and according to the Israel Defense Force (IDF) specifications as well as American military C2 filter canister specifications.  The canister is supplied with a standard NATO thread making it compatible with almost all military and industrial masks.  The filter was designed to provide protection against all known NBC agents in the form of vapors and aerosols with maximum comfort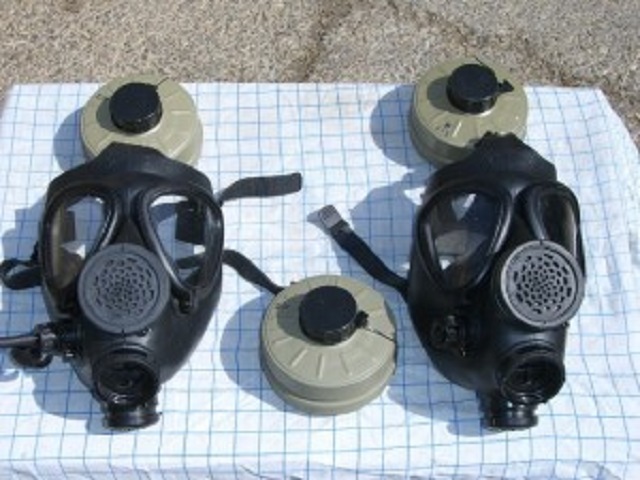 for extended use and with a minimal breathing resistance.  Although low weight it is extremely durable and has a shelf life of 15 years.
The M-80 gas mask filter canister is an integral part of all Israeli gas mask kits.  These gas masks are in our inventory all packed are ready to be shipped.
Previous shipments were made to major importing army-navy stores in the USA and Canada, as well as to various European and Asian countries for various uses starting from collectors and survivalists to a large order of a major law enforcement department for anti-riot operations.    
Before contacting us please read the following 
Our company is located in Israel. We cannot and will not export to countries that have no diplomatic relations with Israel, either directly or indirectly.
We are wholesalers dealing in bulk only. We do not sell small quantities.
We sell to firearm importers and distributors (US FFL 08 or others that apply), military and police units, government and other organizational entities worldwide. We DO NOT sell to individuals or businesses that don't have the proper licensing to import firearms and related equipment.
Make sure that before contacting us that the firearms or other products you are interested in are importable to your country.
CONTACT INTERNATIONAL LTD. - MILITARY SURPLUS FIREARMS AND EQUIPMENT
For over 35 years Contact International (Kalia) Ltd. has been one of the leading companies in Israel in the field of the purchase and sale of military surplus firearms and equipment from mainly IDF (Israel Defense Forces) inventories and suppliers from around the world. We are a one-stop-shop for all of your armoring needs, from ammunition and personal equipment and tactical gear to military armored vehicles and aircraft. We specialize in Israeli firearms such as Uzi, Tavor, Galil and Jericho as well as supply other firearms from around the world, new and used. Our many years in the business have gained us a wide spread worldwide network of contact allowing us to provide you with any product or item that you are looking for. Unlike other companies, most of our products are from our inventory and ready to go thus cutting down delivery time. Our military surplus firearms range from pistols and handguns to assault rifles, machine guns and anti-tank shoulder rockets. Most of our worldwide clients are: govenrments and military units, homeland security and law enforcement agencies, army-navy stores and gun shops, gun collectors, movie special effects and fight scene coordinators. We also offer many weapon accessories such as day and night scopes, butt stocks, bipods, grips, holsters and slings, magazines and clips and more. The personal equipment and gear ranges from helmets, uniforms, tactical vests, gas masks, blankets, tents, camouflage nets and all a soldier or police officer needs to be safe and equipped.
Surplus and More – Contact International Ltd