Demilled M-16's (M4A4) shipped to a movie studio for a war movie
Demilled original firearms and weapons, also called inert firearms or deactivated firearms, are made especially for decoration or other non-firing uses such as for movies.  Contact International provides such products for its worldwide customers who wish to have a functioning firearm that is simply unable to fire live rounds or no rounds at all depending on the local laws and regulations.  Some countries require that demilled weapons must have a cut off firing pin, other require the barrel to be welded from inside so that nothing can pass through it, others require the trigger mechanism and the receiver to not work and so on.  In the US some of the restrictions on demilled firearms by the Bureau of Alcohol, Tobacco, Firearms and Explosives (ATF) require that the weapon will not be able to be readily restored and thus by getting some new spare parts be able to function as a shooting weapon.  Furthermore the ATF publishes minimally acceptable standards on how to properly destroy firearms in order for them to be no longer legally considered a weapon.  Once inert, weapons are often made into "parts kits" which may or may not come with the components that were "destroyed" in the demilling procedure. Any firearm that has not been demilled properly according to regulations is subject to confiscation by the ATF at a minimum. It has happened before where companies have shipped parts kits that were not properly demilled. The Demilled weapons that we can provide vary from assault rifles to RPG's and mortars, shotguns, rifles and more.  All demilling is done according to the regulations of the country where the firearms are sent to.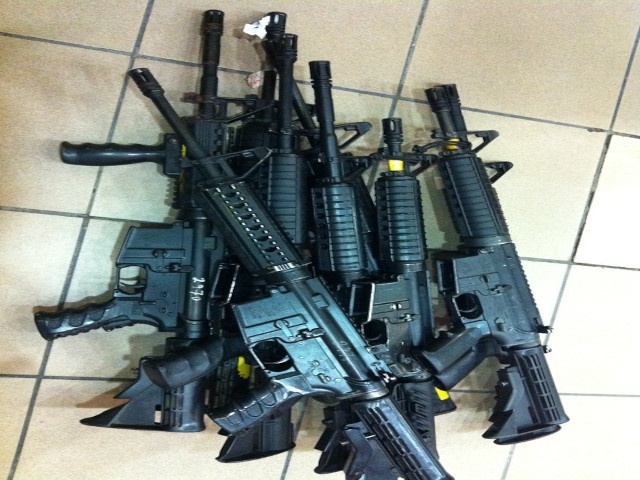 Who buys from us demilled firearms and weapons? Mostly gun collectors and enthusiasts, but also many fight scene coordinators and special effects people seeking movie, TV and film props.  The weapons and firearms that you see in war movies or other action movies are either modified to shoot only blanks or deactivated completely according to the local laws.  Inert products that we can provide are dummy rounds and armament for rifle grenades, RPG rockets, land mines, tank training ordnance rounds, grenades and more.  These inert weapons allow soldiers and law enforcement officers to train and rehearse for their missions and prepare for action.  Some gun collectors who wish to have demilled firearms just displayed on the wall also benefit from this service.  In Israel for example, in recent years, it has been available for parents, or next of kin of fallen soldiers, to get his personal weapon and have it displayed on the wall after demilled properly in memory. 
Before contacting us please read the following 
Our company is located in Israel. We cannot and will not export to countries that have no diplomatic relations with Israel, either directly or indirectly.
We are wholesalers dealing in bulk only. We do not sell small quantities.
We sell to firearm importers and distributors (US FFL 08 or others that apply), military and police units, government and other organizational entities worldwide. We DO NOT sell to individuals or businesses that don't have the proper licensing to import firearms and related equipment.
Make sure that before contacting us that the firearms or other products you are interested in are importable to your country.
CONTACT INTERNATIONAL LTD. - MILITARY SURPLUS FIREARMS AND EQUIPMENT
For over 35 years Contact International (Kalia) Ltd. has been one of the leading companies in Israel in the field of the purchase and sale of military surplus firearms and equipment from mainly IDF (Israel Defense Forces) inventories and suppliers from around the world. We are a one-stop-shop for all of your armoring needs, from ammunition and personal equipment and tactical gear to military armored vehicles and aircraft. We specialize in Israeli firearms such as Uzi, Tavor, Galil and Jericho as well as supply other firearms from around the world, new and used. Our many years in the business have gained us a wide spread worldwide network of contact allowing us to provide you with any product or item that you are looking for. Unlike other companies, most of our products are from our inventory and ready to go thus cutting down delivery time. Our military surplus firearms range from pistols and handguns to assault rifles, machine guns and anti-tank shoulder rockets. Most of our worldwide clients are: govenrments and military units, homeland security and law enforcement agencies, army-navy stores and gun shops, gun collectors, movie special effects and fight scene coordinators. We also offer many weapon accessories such as day and night scopes, butt stocks, bipods, grips, holsters and slings, magazines and clips and more. The personal equipment and gear ranges from helmets, uniforms, tactical vests, gas masks, blankets, tents, camouflage nets and all a soldier or police officer needs to be safe and equipped.
Surplus and More – Contact International Ltd