We supply new and used handguns, rifles, shotguns, sub-machine guns, small and large caliber machine guns, from the most recognized firearms manufacturers such as: IWI, IMI, Colt, Smith&Wesson, Glock, Berreta, Sig Sauer, CZ and more.  Some of our inventory comes from IDF (Israel Defense Forces) weapons military surplus and some from other armies around the world.  We have very close connections to almost every major firearms manufacturer around the world from the USA, Austria, Germany, Czech Republic, Italy, Serbia, Great Britain, France and of course Israel.  Since we are located in Israel we specialize in Israeli firearms such as Uzi (carbine, mini, micro, pro) Galil, Tavor, Negev, Jericho pistols and more. 
We have a service for demiling (demilitarization) firearms according to client specifications and permits whether just for shooting blanks or for having a firearm mounted on the wall. 
The demiling service is especially popular with our clients from the movie industry, specifically fight scene coordinators that are in charge of arming actors with functioning real weapons in battles and fights.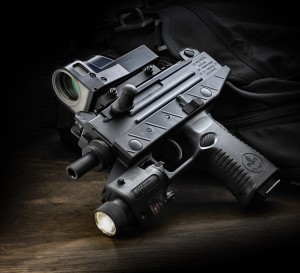 Some of the weapons that we have provided are RPG's, sniper rifles, AK47's, Desert Eagle handguns, Uzi's of all types and more.  We also have a wide variety of gun parts kits such as Uzi parts kits and Galil parts kits just to name a few.
Whether you are looking for a new or used firearm, from the mass produced to the exotic, we can probably get it for you.
View our sub-machine guns and rifles gallery
View our handguns gallery
View our machine guns gallery
View our RPG's and mortars gallery
Before contacting us please read the following 
Our company is located in Israel. We cannot and will not export to countries that have no diplomatic relations with Israel, either directly or indirectly.
We are wholesalers dealing in bulk only. We do not sell small quantities.
We sell to firearm importers and distributors (US FFL 08 or others that apply), military and police units, government and other organizational entities worldwide. We DO NOT sell to individuals or businesses that don't have the proper licensing to import firearms and related equipment.
Make sure that before contacting us that the firearms or other products you are interested in are importable to your country.
CONTACT INTERNATIONAL LTD. - MILITARY SURPLUS FIREARMS AND EQUIPMENT
For over 35 years Contact International (Kalia) Ltd. has been one of the leading companies in Israel in the field of the purchase and sale of military surplus firearms and equipment from mainly IDF (Israel Defense Forces) inventories and suppliers from around the world. We are a one-stop-shop for all of your armoring needs, from ammunition and personal equipment and tactical gear to military armored vehicles and aircraft. We specialize in Israeli firearms such as Uzi, Tavor, Galil and Jericho as well as supply other firearms from around the world, new and used. Our many years in the business have gained us a wide spread worldwide network of contact allowing us to provide you with any product or item that you are looking for. Unlike other companies, most of our products are from our inventory and ready to go thus cutting down delivery time. Our military surplus firearms range from pistols and handguns to assault rifles, machine guns and anti-tank shoulder rockets. Most of our worldwide clients are: govenrments and military units, homeland security and law enforcement agencies, army-navy stores and gun shops, gun collectors, movie special effects and fight scene coordinators. We also offer many weapon accessories such as day and night scopes, butt stocks, bipods, grips, holsters and slings, magazines and clips and more. The personal equipment and gear ranges from helmets, uniforms, tactical vests, gas masks, blankets, tents, camouflage nets and all a soldier or police officer needs to be safe and equipped.
Surplus and More – Contact International Ltd